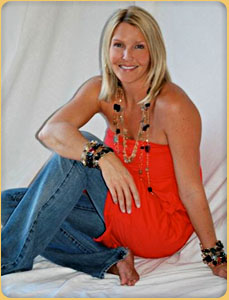 MaryGold Designs is the brainchild of Mary McNeill, a straight-shooting pharmaceutical sales representative turned artsy free bird and gold and stone connoisseur. Inspired by her mother's eclectic art ventures and her own creative spirit, McNeill began crafting jewelry at her kitchen table, designing unique gifts for friends and family as a form of stress therapy in 2006. When her side business propelled into something more lucrative, McNeill shucked her corporate career to put her artistic energy and 10 years sales experience into launching MaryGold Designs.
The collection consists of beautifully handcrafted baubles featuring precious and semi-precious gemstones pieced together by 14-18k gold filled findings: earrings, necklaces, and bracelets. The line ranges from sparkly and delicate, as with the MaryGold Diamond and 14K collection, to organic and chunky, and features pieces crafted with raw emotion.
"I truly want to design a line that can be worn by any woman, no matter age or style. Jewels they can wear anytime, anywhere. My goal with every piece is to create something that they love to wear, and makes them feel beautiful!"
Once found in boutiques solely around Dallas, MaryGold is now available in throughout the US and Internationally.
McNeill lives in Plano, TX with her husband Todd and daughter Micah.
Mary's love for dogs is what inspired the naming of her "One of a Kind" pieces in her collections...each named after a dog she has known.